Get Involved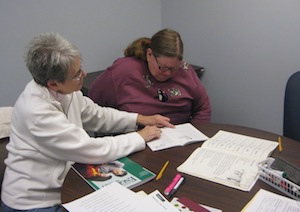 Current Volunteer Opportunities:
Sewing Bibs

Do you like to sew? Do you want to volunteer your time but might not have a lot of it at this moment? We have the perfect opportunity for you! An individual we support needs to regularly wear bibs and frequently needs new ones. If you would be willing to make a few for this person we support; she would be so grateful! If interested, please contact smulcahy@arcfc.org and additional information can be provided.

Help someone learn photography

Do you enjoy photography? Do you have a passion for sharing that skill with someone with a disability? Then we have the perfect match for you. An individual we support is seeking a volunteer to work one to one with her to learn different photography skills. The schedule is flexible! Contact Shauna at The Arc if you might be interested: smulcahy@arcfc.org or 301-663-0909 ext 140.

Volunteers for our monthly Parents' Day Out Program

One Saturday per month, August through June, we provide 4 hours of respite time for parents and children. This is a great opportunity for teens, college students, and adults to help children with disabilities while having a lot of fun in a supervised setting. Organized group hosting activities, such as dance, theater, or music, are welcome as well. Please contact Shauna at 301-663-0909 x140 for information about volunteering at Parents' Day Out.

Do you enjoy sharing your time and activities?

You will meet someone who shares your interests and would enjoy going with you to the movies, concerts, shopping, the library or sight-seeing. You may simply relax with a picnic and a visit to a local park. Friendships are welcome!

Volunteer to share your expertise.

Volunteer mentors are always appreciated! Could you help someone learn about your favorite hobby or skill? Any life skill that you would like to share with another could be helpful. You do not need to be a professional in the area, just if you have a working knowledge. Some examples are:
-Cooking skills
-Computer skills
-Photography
-Art
-Budgeting
For more information and a volunteer application, contact Shauna at The Arc: 301-663-0909 x140.
and send it to:
The Arc of Frederick County
Attn: Shauna Mulcahy
620A Research Court
Frederick, MD 21703
Submit your volunteer application online!