Get Involved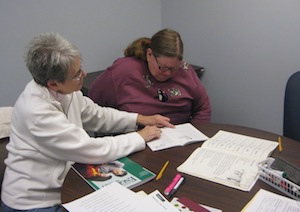 Current Volunteer Opportunities:
Volunteers for our monthly Parents' Day Out Program

One Saturday per month, we provide 4 hours of respite time for parents and children. This is a great opportunity for teens, college students, and adults to help children with disabilities while having fun in a supervised setting. Organized group hosting activities such as, dance, theatre, or music, are welcome, as well.

Life Enrichment

We encourage people to share their passions with the people we serve. If you have a special skills or hobby, volunteer to teach it to others. Life skills that you share with another, one to one or in a group setting, is appreciated.

One-to-One

this opportunity consists of becoming involved in the life of someone we serve on a regular basis. You could go to the movies, shopping, library, or sight seeing. You could even just sit in the park enjoying each other's company.

Fundraiser Event Volunteers

Throughout the year we host fundraisers such as our Trivia Playoff for our services and programs. Volunteers are always needed to provide assistance.

Student Mentors

The Arc partners with Rock Creek School to mentor students with disabilities every Thursday from 3:30-4:30 PM October through April. Volunteers provide recreational support to children with disabilities. It is asked that you make the year commitment upon your beginning date.

Sibshops

The Arc of Frederick County provides a program for siblings of people with developmental disabilities. They are held one Saturday a month from 10:00 AM – 1:00 PM at The Arc at Market Street. Volunteers are asked to contribute and participate to the various activities that are held during the workshop.

The Arc at Market Street

Volunteers are needed to provide support to adults with developmental disabilities. You can share your own talents/interests or participate in the meaningful activities scheduled for the day. This is a weekday opportunity held Monday through Friday; 9:00AM-3:00 PM at The Arc at Market Street (555 South Market Street, Frederick, 21701).

Childcare during meetings

We are looking for volunteers who would like to provide child care for 1 -2 hours on an as-needed basis for evening and afternoon meetings. We like to offer this option, but are never sure of the need until 1 week before the meeting.
For more information and a volunteer application, contact Shauna at The Arc: 301-663-0909 x140.
and send it to:
The Arc of Frederick County
Attn: Shauna Mulcahy
620A Research Court
Frederick, MD 21703
Submit your volunteer application online!