Stories
Andre Visits Washington, DC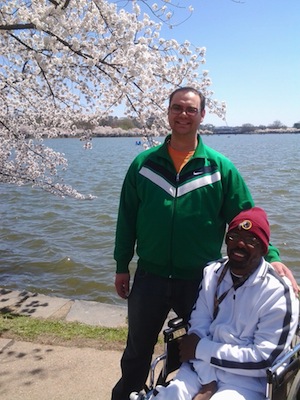 In April 2014, Andre and his job coach, Kyle, set out for a day trip to Washington D.C.  Although Andre occasionally goes to D.C. to visit family, he has never been able to see any of the sights or participate in any of the activities that the city has to offer.  This day was entirely different.  Their goal was to see and do as much of the city as they could in one day. 
The first new experience of the day for Andre was riding the Metro.  Andre regularly uses public transportation in Frederick, but this was on a bigger scale and Andre loved learning how to navigate it and using it to get to downtown DC.
First, they headed straight for the Tidal Basin to see the Cherry Blossoms.  From there they walked to the Jefferson Memorial, to the F.D.R. Memorial, and then to the M.L.K. Memorial.  Once they walked back to the National Mall, they set a direct route down Constitution Avenue for the White House.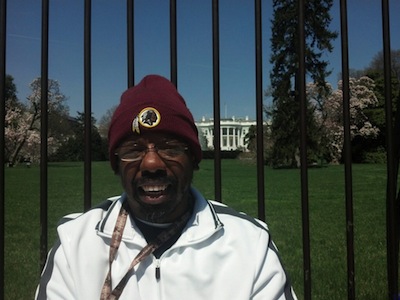 The day did not stop there.  They visited the Smithsonian Institution's National Museum of American History and the Natural History Museum.  Andre was impressed by everything the museums had to offer. When they finished their tours of the museum, they walked around the National Mall one more time before they finished their day at Capitol Hill looking over the reflecting pool and discussing the highlights of the day. During their reflection, Andre and Kyle agreed that the long-term planning for this day trip was worth it and so meaningful to both of them.