Stories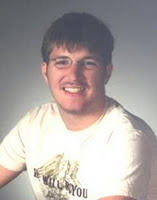 Bradley's Story, as told in The Arc of Frederick County's blog.
Meet Bradley! - Tuesday, February 1, 2011
Bradley is a 2008 graduate of Walkersville High School. Since graduating from school, Bradley has completed a 90 hour course for childcare certification from Children's Enrichment Enterprises. This allows Bradley to work with preschool age children. Not only can he work with preschoolers, but Bradley has also taken the 45 hour infant/toddler class so he is also certified to work with that age group as well. He can even be found substituting the 3 and 4 year olds at the Head Start program! This past summer, Bradley worked at The Boys and Girls Club of Frederick County. In addition to his childcare responsibilities, Bradley successfully completed the Leadership Enrichment Achievement Program at Frederick Community College (LEAP at FCC) in July. LEAP at FCC is a personal enrichment class on the college campus that supports students to develop positive habits and a proactive approach to life as they explore their individual talents and gifts and learn to apply their strengths and passions to the workforce and post-secondary education.
As a result of attending LEAP, Bradley set out on a course to enroll in other classes at Frederick Community College. Bradley determined that one of his areas of interest is radio broadcasting. With support from The Arc of Frederick County and The Office of Services for Students with Disabilities at FCC, Bradley enrolled in an Introduction to Voiceovers seminar at Frederick Community College. Additionally, The Arc coordinated a day of job shadowing for Bradley at KEY103. Bradley was thrilled to spend the afternoon learning how to operate a radio studio with local celebrity, Dan Stevens.
Bradley continues to pursue a positive path and in January 2011, Bradley started a new job at a local grocery store. In addition to working, Bradley has enrolled in Digital Media Design at Frederick Community College. This is Bradley's first semester long course and he is looking forward to earning good grades and getting involved in campus life.
Join Bradley and The Arc of Frederick County for weekly updates on how Bradley juggles his career, college life, and other triumphs and challenges of adulthood!
A Network of Natural Support - Monday, February 7, 2011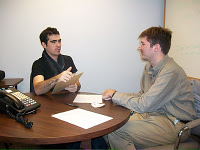 Few things in life happen without teamwork. The Arc of Frederick County assists people to build a team of support to help them accomplish their life goals. To support Bradley with preparing for job interviews, Bradley worked one-on-one with a Job Coach to enhance his interview skills. Bradley and his Job Coach decided that it would be helpful to video tape their mock interview sessions so that Bradley could see how he presents himself during an interview. Following their interview sessions, Bradley and his Job Coach would watch the videos and note areas of strength and areas that needed some polishing. This proved to be a successful way to support Bradley with building his confidence and getting a job at a local grocery store.
Braving the Storm - Wednesday, February 9, 2011
With only days of work under his belt, Bradley is already establishing a solid reputation as a "hard worker" at a local grocery store due to his committed effort and strong desire to learn. He arrived to his first day of work in the midst of a raging winter storm and though others were distracted with concern over the accumulating snow, Bradley stayed attentive to task. His pleasant manner and easy interaction with customers garnered compliments from management and co-workers alike as he kept pace with the stream of customers' intent on preparing for the storm.
For now, Bradley is satisfied to get rides to/from work but has plans to learn the bus route for easier, more independent access. He also plans to get his driver's license and save a portion of each paycheck to pay the cost of his future insurance coverage. Until then, Bradley is intent on upgrading the quality and capacity of his gaming systems, with an eye toward purchasing new Wii equipment.
Coordination is Key - Friday, February 11, 2011
To support Bradley's independence in the community, Bradley partners with a Support Coordinator from The Arc of Frederick County to locate and apply for resources. This coordination assists Bradley to maximize the supports he can access in the Frederick community. To support Bradley's enrollment in college, Bradley was able to receive a tuition waiver in collaboration with Frederick Community College and the Social Security Administration. Bradley is responsible for paying his classroom and text book fees, but his tuition is waived.
An Insightful Journey - Tuesday, February 15, 2011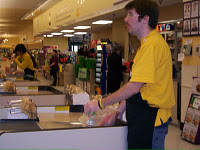 This past week at work has been an insight for Bradley. Wanting to do the best job possible and establish himself as an effective team player, Bradley is quick to incorporate the bagging suggestions offered by his coworkers. But since everyone tends to do things a little differently, he's had to decide which suggestions best suit his style to ensure ultimate job performance. Just as his interaction with co-workers has increased, so has his speed of production.
A Collegiate Perspective - Thursday, February 17, 2011
Bradley is in his third week of college classes and he is doing phenomenal! Bradley's first assignment is to work with a group and create a fake video infomercial (hint: Snuggie meets the Lazy Boy). Stay tuned: If possible, we may be able to bring you a sneak peak of this exciting infomercial. Recently, Bradley also got to experience another college campus nearby, Hood College, to see what that environment is like.
Rock On! - Tuesday, February 22, 2011
This week, Bradley started production on his video at FCC! He is doing the behind the scenes work this week, and next week, he will get to show off his acting skills. In his spare time, Bradley is meeting new faces at FCC and getting better connected with his community. Bradley has also set a new goal with his incoming paychecks. He wants to save up to experience an AC/DC concert. Rock on!
Play Ball! - Thursday, February 24, 2011
We hope you have enjoyed taking a deeper look into Bradley's life over the last few weeks. It's just going to keep getting busier! Last weekend, Bradley attended a job fair for Head Start employees, and submitted all of the necessary paperwork to reamain a substitute there. His life isn't all work though; there's definitely some room for play! Bradley is gearing up for the warm weather, as his beloved Red Sox will start playing again. Bradley and his family try to at least see them at least once when they are in town as they are HUGE fans.
Knowledge is Gained by Learning - Monday, February 28, 2011
When asked what he most likes about his job, Bradley is quick to answer, "Making new friends and learning new skills, like bagging". Each week finds Bradley forging stronger ties with his co-workers as he has discovered that many of his colleagues also take classes at Frederick Community College. This mutual educational experience prompts interesting discussions and opens the door for on campus exchanges as well.
Carpe Diem! - Thursday, March 3, 2011
In an attempt to supplement his salary from the grocery store and further his overall skill level, Bradley applied for part time work at last week's job fair held at Keys Stadium. This was a great opportunity to closely assess his current job talents for presentation to others while also honing his interviewing skills.
The Art of Driving - Monday, March 7, 2011
Outside of class, Bradley is a very busy guy. He keeps a part time job and is very active socially. There is one goal, however, that Bradley wishes to achieve: providing his own transportation. Recently, Bradley has been meeting with a driving instructor every week to practice his driving skills. Bradley looks forward to being able to drive to work on his own, see his friends on his own time and being able to go to the mall whenever he wants!
Lights, Camera, Action! - Wednesday, March 9, 2011
Bradley had his chance on the silver screen this week! For his Digital Media class, Bradley has been working on a fake infomercial for the "Robair" (half Snuggie half recliner chair) and Bradley acted as one of the testimonials for the product (hint: "You might be a redneck if…"). Today Bradley and his classmates edited the video and will be done shortly.
The best part about the future: it comes one day at a time - Friday, March 11, 2011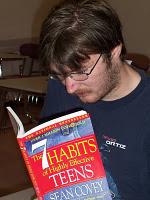 Bradley has been making huge strides these past few months in class and at work. These of course are only the building blocks to a bigger goal; to live on his own. Bradley's future, in his eyes, holds a time where he will be living independently and working full time at a career of his choosing. While this may be several years in the making, we can look at today and see the progress he makes on this incredible journey.
Movin' on Up! - Tuesday, March 15, 2011
Bradley will now be working without an on-site job coach as Giant feels he has the skills to work in tandem with the register operator. Management has been so pleased with Bradley's work ethic they also trained him to empty the garbage cans in the front of the store. This is a big deal since they tend to assign only workers who can get the job done quickly and efficiently, without wasting time talking to others. Bradley is recognized as someone who applies himself in whatever he does, which will be an incredible asset in all endeavors of life.
Preparing for Birthday Festivities - Thursday, March 17, 2011
Even though he has been keeping very busy, Bradley has been in touch with several friends he made while attending the Workforce center in Baltimore. He graduated last June and has not seen any of them since then, so he is planning an event for them to all get together and meet at the Inner Harbor since most of them are from Baltimore. It will make for a very exciting birthday weekend in April!
Time Marches On - Tuesday, March 22, 2011
Bradley has been incredibly busy over the last couple days! He has recently been offered the opportunity to train as a front desk receptionist. He will work around his class and work schedule in order to learn new skills as a receptionist. Ah, the beauty of a bustling lifestyle! He's very excited about this future endeavor...stay tuned for more details!
Dare to be Great - Friday, March 25, 2011
For the past two weeks, Bradley has been working alongside his colleagues without the support of a job coach! Management notes that he doing "GREAT" and his skills in customer service continue to shine. We are so proud and excited with Bradley's accomplishments!
A Change of Pace - Tuesday, March 29, 2011,
Bradley had a change of pace this week, as he worked as a receptionist. He was asked to fill in for an employee on leave. Bradley was responsible for answering phones, greeting visitors, routing calls to the appropriate staff, and taking messages. Bradley gave amazing first impressions to those who were unfamiliar with the program.
From One Milestone to the Next - Tuesday, April 5, 2011
Bradley is completing his Driver's Education training with Rehabilitation of Frederick. The independence gained from driving his own car and providing his own transportation will be a major milestone in his personal development.
Down The Road, We Go! - Thursday, April 7, 2011
It's been quite the journey with Bradley so far! When asked what he feels he has accomplished over the past 3 months, Bradley flashes a big smile before answering: "Well, I got a job at Giant; I made some new friends; I've got money to spend so I can do more of the things I like; I'm learning how to use a camera and make videos for my class, plus making some new friends there too. I'm also learning to drive a car – I just wish I had more "road time" to really practice my driving with an instructor because some day, I want to be driving myself to work!"
When It Rains, It Pours!! - Wednesday, April 20, 2011
After getting his part-time job at Giant, Bradley had other areas of skill he still wanted to explore and develop. One involved his interest in making films, which he currently pursues through attendance at FCC. Another was his interest in working with children as a result of his earlier volunteer experience at Head Start. Continuing to volunteer his time at Head Start, Bradley was recently offered a full time job. Although thrilled with this new opportunity, he did not want to leave his position at Giant since he has made friends and established himself there. As a result, he took the initiative to approach Giant management to see whether he could work different hours in order to accommodate both jobs. Due to his steady, diligent work performance, Giant agreed to his request for a change in hours, so starting April 25th, Bradley will begin working 2 jobs rather than only one, while also attending college classes and taking driving lessons. Let's just hope he can still find time to get some sleep….
"What lies behind us and what lies ahead of us are tiny matters compared to what lives within us" - Friday, April 22, 2011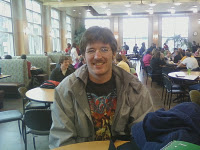 The Arc of Frederick County hopes that you've enjoyed following Bradley on his endeavors as student and employee. We will be checking in with Bradley to see how the end of his semester turns out and how he balances his new job at Head Start in addition to Giant!
Much of Bradley's success is due to his determination to reach new heights for himself. The Arc of Frederick County supports people we serve to build upon their natural supports to assist them with making their dreams come true.
We Know You've Been Waiting.... - Thursday, October 13, 2011
Remember Bradley? We wanted to give you an update on his life. He has been incredibly busy!
He completed his class at FCC with an A so he has started his college transcript off well. He successfully achieved his driver's license on his first try at the end of August and it even started raining during his test. He did beautifully!
He is now working fulltime with Head Start at a classroom in Walkersville. He interacts and provides guidance and supervision to a class of 3 and 4 year olds under the direction of 2 other teachers. He helps them with their skills during 2 mealtimes and during learning centers and outside play. He loves how they call him Mr. Bradley but it is hard work!
He still is working Giant and really enjoys it. He really seems to like everyone. Recently, they increased his hours to 3 nights a week and sometimes he works weekend afternoons.
And of course, he is very disappointed about his beloved Red Sox not making the playoffs but did get to see them this summer in Baltimore. He is really looking forward to December when he meets up with friends from the Workforce Center in Baltimore to see professional wrestling at the First Mariner Arena.
We will keep you posted on more events in Bradley's life in the near future!