Stories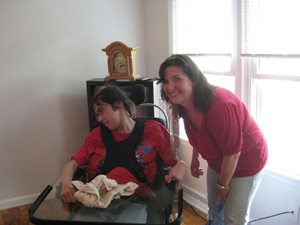 Jennifer's Story
Recently, The Arc of Frederick County has been fortunate enough to develop partnerships with area churches in order to renovate a home of someone we serve. The Arc of Frederick County serves a young lady, Jennifer, who has Cerebral Palsy. Jennifer uses a wheelchair, and utilizes a Dynovox communication device with a head stick to communicate with others.
Jennifer's parents divorced when she was young, and her mother, Teresa, remarried. Unfortunately, due to an unexpected and tragic accident, her second husband passed away in 1996. His passing created a financial hardship for their family. There were difficulties in maintaining the home, and simply keeping up with everyday living was difficult. Their home started to progressively deteriorate, with problems ranging from leaky pipes, ravenous mold, and an overgrown yard. The biggest problem in her home was the pipes. Every time one leak was fixed, a new one appeared. At first, Jennifer's dad helped with things around the house whenever he could. He helped with plumbing, electrical problems, yard work etc. However, about a year ago, Teresa stopped accepting her ex-husband's help because she had grown so private and embarrassed about the condition of the house and her financial struggles. Mold was becoming a big problem very quickly. Teresa felt overwhelmed and helpless.
| | |
| --- | --- |
| Living Room - Before | Kitchen - Before |
In the spring of 2011, The Arc of Frederick County was approached by Summit Trace Church as they wanted to know if any families that we support could use some help in and/or around their homes, as several churches were coming together to do some community service work in the Frederick area. We knew that Jennifer's home was in dire need and we managed to convince Teresa to accept the help that the family so desperately needed. The church agreed to accept the challenge, and Jennifer's home was selected to be a part of a collaborative project between Summit Trace Church, Lakeview Church, Faith Baptist Church, and Daybreak Community Church.
First, the entire yard had a total facelift from Summit Trace Church. The "before and after" pictures are totally amazing. The group told us that every time Teresa walked outside when they were working, she cried. She could not believe the generosity of everyone willing to help. During their clean-up, one of the young men found a high school ring that turned out to be Teresa's deceased husband's ring. Teresa was overcome with emotion when the ring was given to her. On the last day of the outdoor clean-up, the group presented her with a framed picture they had taken of Teresa with all the workers and a beautiful leather-bound bible. Teresa cried and said this would be the first picture to go up when the house is finished.
The mold restoration work began on July 18th. The work was scheduled to last one week, but due to the overwhelming problem, it took over two weeks. The next step was for the pipes to get replaced.
While the inside of the house was being renovated, Teresa and Jennifer stayed with Teresa's mother in southern Maryland. Jennifer was somewhat confused about all the packing and what was going to happen. She was concerned that they would not be coming back home. Jennifer needed reassurance that everything would be all right. So, Jennifer and her father began watching Extreme Home Makeover. This really seemed to help her to understand what was happening to her house. The team decided that on the day they come home, there would be trucks (the ones belonging to the businesses who have made this possible) blocking the home from view, and everyone yelled, "MOVE THAT TRUCK!".
They completed all of the renovations over the last weekend of August and had a massive unveiling with the family. This project was the, The Arc's version of "Extreme Home Makeover." This undertaking means the world to Jennifer and her family, and The Arc of Frederick County cannot thank the churches and volunteers for making such an incredible impact.
| | | |
| --- | --- | --- |
| Jennifer enters her newly renovated home for the first time! | Many of the volunteers welcomed the family home! | |