Stories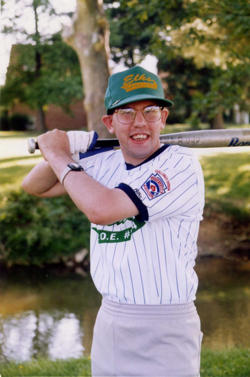 John's Story
The Arc would like to introduce you to John, a gentleman we have been serving for quite a few years. When John was 32, he lived with his mother, Margaret, 65, in their family home in Brunswick. In 1999, Margaret had a heart attack and was hospitalized; leaving John without the primary caregiver who he had relied on his entire life.
Without a plan as to who would care for John in the event of an emergency, John ended up being removed from the only home he had ever known and placed in a temporary respite house with emergency funding from the Maryland Developmental Disabilities Administration (DDA). While the intention was good, John's world was "rocked" as he found himself living in a home with a group of strangers, being supervised by staff he did not know or choose, and being forced to change his typical routine that he was used to at home. All this, in addition to worrying about his mom's health and being concerned if he would be able to meet his work obligations, caused John a tremendous amount of stress and confusion.
At the time, John was familiar with The Arc of Frederick County through his involvement with Working Together Self-Advocacy Group. Working Together is a group of politically and socially motivated adults with intellectual and developmental disabilities with a mission to enhance the quality of life through advocating together and by building reciprocating relationships within the community. After being placed in the temporary respite house, John put to use many the skills he had learned in the self-advocacy group and called The Arc for help.
Among the many things John was concerned about, some primary complaints included that he had few breakfast choices, his temporary home was filled with people he did not know and who he referred to as, "too noisy walking up and down the stairs all night long," and he only had one TV that he needed to share with, "too many people." John was very concerned that his choices and preferences were being taken away and he had no say or power in the decisions that were being made for him.
A Support Coordinator from The Arc was able to quickly meet with John and coordinated a meeting that included John, staff from Scott Key Center, John's Service Coordinator, and John's extended family members. As a result of listening to John's personal preferences, The Arc was able to secure funding from DDA to allow John to choose and hire his own support staff rather than forcing John to live in a temporary home with people he did not choose to live with. John was able to move in with a family he knew from his circle of natural supports while his mom recuperated in the hospital.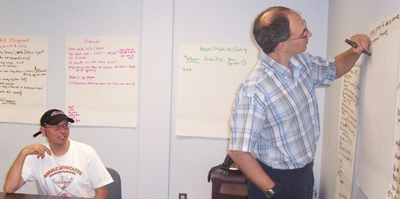 Upon Margaret's release from the hospital in 1999, a Support Coordinator from The Arc was able to meet with Margaret and John to discuss Futures and Estate Planning. Support and guidance was provided that included developing emergency and back up plans, locating an attorney to establish a Special Needs Trust and Will, and advocacy to secure resources that would support John with building his independent living skills so that he could one day reach his goal of living on his own.
John's dream of independent living was realized in 2008, when John moved out the home he had always shared his mother. This time, John's move was his choice. Instead of a reaction to an emergency situation, support from The Arc empowered John, now 35, to move into his own apartment. An apartment that is on a bus line so that John can get to work and from work and around the Frederick community.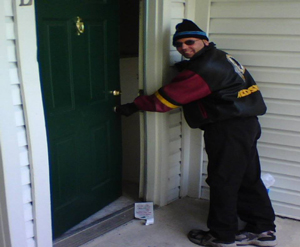 Most importantly, John's apartment became his home. A home that his mother, Margaret, watched her son move into with confidence. Confidence in John's own abilities, confidence in the fact that The Arc and the Frederick community would be there to support her son in her absence, and confidence in her own abilities that she did her very best in raising her son, to be the successful man that he had become.
John and Margaret's story is just one of the many examples of how our vested partners have made contributions that truly impact and make a difference in the lives of our fellow citizens.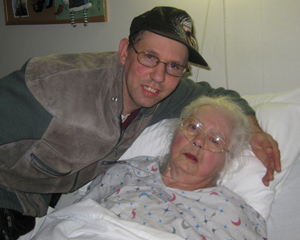 Your contributions truly make a difference for John and other Frederick County citizens with developmental disabilities and their families.